1268

Large apartment with terrace, part of palazzo in Bagni di Lucca, Tuscany
Bagni di Lucca — Media Valle del Serchio
The price of this property has recently been reduced.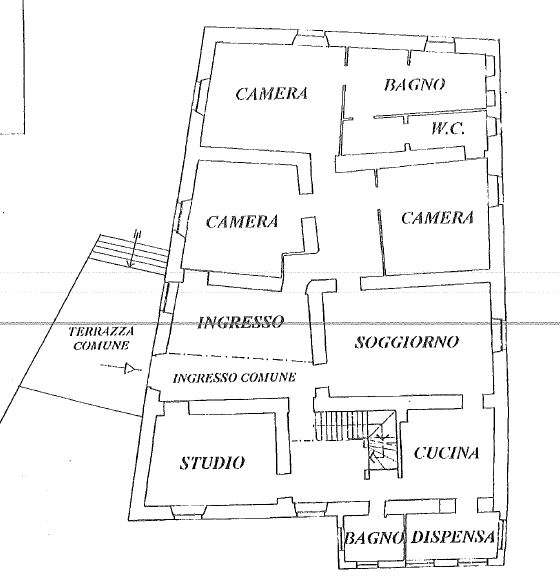 Property description
This 208m2 ground floor apartment forms part of a well-kept Renaissance Palazzo divided into three spacious apartments,. The property is located in an very elegant hamlet with the Napoleonic Spa at its centre. The cluster of buildings around the spa are all of historic note, in fact the area was called 'Borgo' was certainly one of the 'in' places to be for gentry and nobility of Europe on the 'grand tour'.
It may be of interest to some, that the property is a brief walk from Mary Shelley's villa and even closer to villa that Byron used during his stay in Bagni di Lucca.
The entrance is via a pleasing paved terrace with balustrade, we have the original door that leads into a large reception room beautifully frescoed.
The frescoes are of a later period which is often the case.
The terraced area in front of the house is has original paving and iron balustrade. This pleasing outside space where we find table, chairs and pottered plants.
The apartment consists of 4 spacious bedrooms, large reception room, living room, kitchen, 3 bagni e veranda located near to the kitchen.
It has to be mentioned that the front entrance is shared by the apartment above but this has very little impact on the living dynamic of the living environment. (see plan)
The property was built by the Bonvisi family in 1430. The interiors are bright and still echo a noble past.
The decoration of the apartment has some of the original frescoes and parquette floors.
The apartment is spacious enough to become an refined guest house or simply a spacious family home.
Property features
Area208 m2
Rooms

7

N. bathrooms

3

Terrace

Garden n/a
Balcony n/a
Conditions

Renovated

Energetic class

G

Kitchen

Habitable

Heating

Autonomous

Box

Parking space

Floor

Ground floor
On the map
Address

Contact us for further informations
Require more information
×